Find Out All About the Scares Being Stirred Up this Halloween Season at Booger Jims Hollow!
Home » Blog » South Carolina's Best Weekend Events, South Carolina Haunts: An In Depth Look, SouthCarolinaHauntedHouses.com News and Updates
September 1, 2017 By Haunt News & Press Releases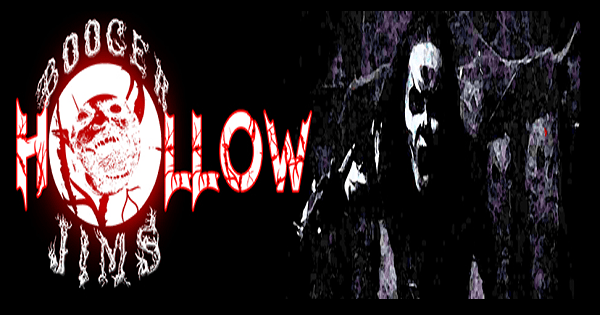 SouthCarolinaHauntedHouses.com recently sat down with Ian Farnsworth of Booger Jims Hollow, to discuss what's new at Booger Jims Hollow for the 2017 Halloween Season! Located in Blacksburg, Booger Jims Hollow offers a terrifying haunted trail, infested with the creepiest of creatures you'll ever find!
What's new at Booger Jims Hollow for 2017? Do you have any new rides, attractions, or special features that Haunt Seekers should know about?
We have 4 new scenes in the trail and 2 new scenes in the house. We change it up every year so there is always new stuff.
What are you most excited about for the 2017 Halloween Season?
Excited? No, we are Ecstatic! Over 75% of our actors are seasoned meaning they have been here for 2 or more years! Most have been waiting on this since November of last year!
What differentiates Booger Jims Hollow from other local haunts in South Carolina?
I don't pretend to know a lot about other Haunts but from what I hear and can see online is that our entire haunt is focused around and is centralized in the middle of an actual urban legend. Also, we are a very in your face type of haunt. We don't know what personal space is, so if you beg nicely our clowns just might put you in a barrel and spin you around a few times HAHA.
How long has Booger Jims Hollow been in business? Can you tell us a bit more about Booger Jims Hollow's history?
Defiantly, I first started doing the haunted trail in 2006. I was in the 8th grade and a few of my friends, myself included, were all talking about Halloween and spook trails. So we decided to do our own. We painted wooden signs and put them around town. And made a small trail in the cane break behind my house. I guess we had about 200 people or so show up. It's funny looking back now because we were so inexperienced and just trying to have fun. We had a zombie Elvis sitting on a toilet that people were laughing at but we had a blast and that's all we cared about back then. A few years after that I changed the name to Booger Jims because 2 of my friends and I went and did the Booger Jim call on the bridge and actually caught him on video. That gave me the idea for the name and ever since then we have built on that brand. I'm proud to also add that Booger Jims has never experienced any major accidents. No ambulances on our property in the 11 years we've been in business!
What's your favorite experience since opening Booger Jims Hollow?
Umm, I would have to say buying the house and converting it into a haunted house. It was fun smashing through walls and building scenes inside knowing that I didn't have to take everything down and put it in storage at the end of the season.
How long is a typical haunt experience at Booger Jims Hollow from start to finish?
It really depends on the person or people in your group, I mean we have had groups stay in just the trail for 30 minutes or more every year because they are that scared and it takes them that long to get through there. On an average I would say about 40 minutes.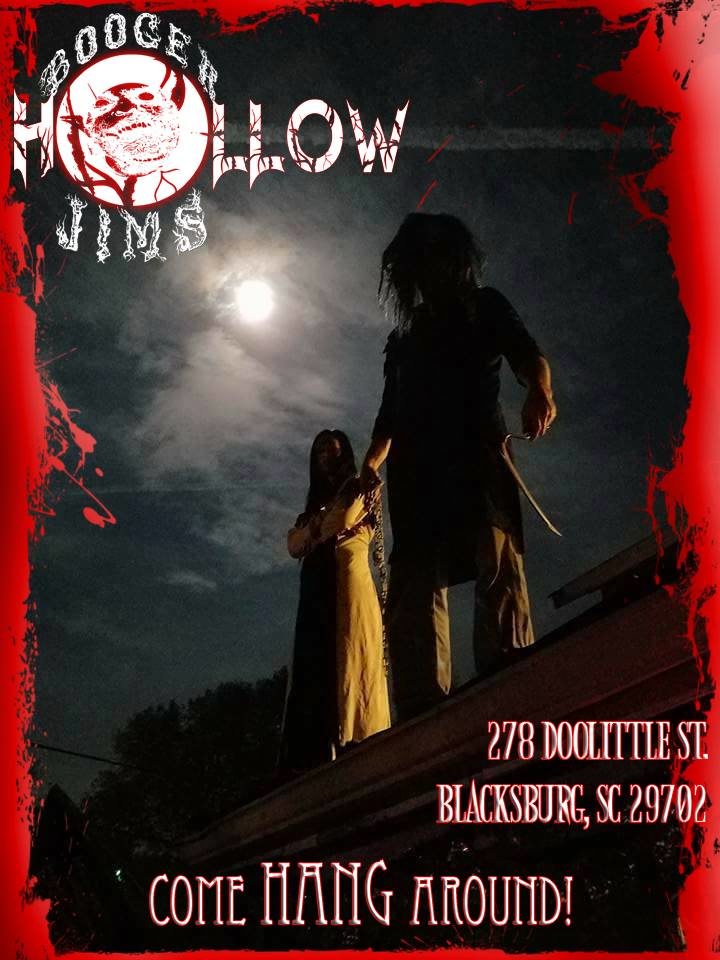 On a scale from 1 to 10, how scary would you say Booger Jims Hollow is? Why?
We ended the season last year with a 5.0 out of 5 on Google and a 4.7 out of 5 on Facebook with over 200 reviews so I would say an average 9 - 10. Personally I don't like to rate my haunt, I let my customers do that.
Does Booger Jims Hollow's property have any real haunted history? Do you have a spooky encounter you'd like to share?
I talked a little about this in the history section, but yes. Booger Jims Hollow is located in the middle of Cherokee falls. Booger Jim lived in Cherokee falls and was hung off of the bridge that is in walking distance from Booger Jims Hollow. We went and did the Booger Jim legend, called for booger Jim 3 times each like the legend says on the bridge and actually caught him on camera. The video is on You Tube for anybody who wants to check it out. Also one part of the Booger Jim story is on our website for anybody wondering what the story is. Some customers have even said they felt uneasy and could feel the present of spirits, that we believe could be Booger Jim. Also our actors have had their paranormal experiences, such as someone screaming their name, and nobody calming it, being pulled on when nobody else was around, having goose bumps/chills, being pushed, these are just some of the things that has been told to me. Also There are a lot of fake stories on the internet floating around, but I grew up listening to the old folks telling us the stories about booger Jim and those are the stories we tell here at Booger Jims Hollow.
What inspired you to open up a haunted attraction? What's your favorite part of the business?
I also talked a little about this in the history section. It was just me being a kid and wanting something fun to do with my friends and maybe even make a little side cash to go with it. Starting out I never thought it would turn into what it is today. My Favorite part is the personal interaction I get with the customers I love suiting up and putting that mask on or painting up my face and going in there and crawling on the ground grabbing at somebody's feet and them hopping through the woods screaming lol gives me chills and fills me with excitement just thinking about it!
How has new technology (i.e. animatronics, special props, etc) helped you to enhance Booger Jims Hollow?
You know some of the animatronics, they are making today are amazing and it does add great effect. The 3D stuff is great too, but we pretty much make all of our stuff ourselves using our own ideas. Personally I believe no piece of technology can replace a really good actor though, and our track record proves it.
Can Booger Jims Hollow accommodate large groups? How many people can experience Booger Jims Hollow together as a group?
We only allow a group of 6 at a time to go through, but we have as many as 3 groups at a time in the trail so you get a better experience with a small group. Really, if you have more than that you're just taking away from the experience because somebody might have a pop out scare in the front, then the 8 people behind them already know about it - so it just works a lot better with smaller groups.
Does Booger Jims Hollow offer any special deals, discounts, or coupons?
Yes, if you like and follow us on Facebook we give away fee tickets and shirts, we do also have some discount coupons floating around somewhere on the internet.
Anything else you'd like to let us know about Booger Jims Hollow?
Oh yeah - you have to sign a waiver before you can come through ;)