Denver Downs Farm Harvest of Horror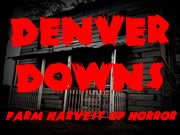 1515 Denver Road
Anderson, SC
Test your appetite for horror and fear at the Upstate's leading haunted attraction. One admission price includes 4 Haunted events, the 10 acre corn maze, and the 35 barnyard activities!
Experience the Upstate's Harvest of Horrors at Denver Downs Farm! Our haunted attraction includes a haunted house, a haunted trail and haunted motel. The story is terrifying!
Attractions:
- The Haddonfield Inn
- "Santa's Slay" House
- Camp Crystal Lake Bus Ride
- "The Haunted Freak Show"
Madam Hecksley Seance and The Dark Ride are the 2 add on attractions
Email Haunt Owner
Hours of Operation:
Friday: 7 pm – 12 midnight Saturday 7 pm – 12 midnight Sunday: 7 pm – 11pm
Admission Costs:
Four Haunts – One Price All Access Pass: $30 (includes 10-acre maze, hayride, 35 barnyard activities, Bonfires, and live music) Fast Pass Add-on: $10
One of South Carolina's oldest family owned and operated farms, Denver Downs Farm holds it's annual Corn Maze and Pumpkin Patch, National act concerts, special events, corporate outings and field trips

All ages- family, friends, and groups are invited to come out and spend the day (and evening) at the farm enjoying getting lost in the 10 acre maze finding the perfect pumpkin in the eight acre pumpkin patch! All barnyard activities are included - take tractor pulled hayride, see animals, swing and play in hay-barn, strong man hammer game, ride the cow train, milk the cow game, play farm football, feed the goats, ride the zipline (under 250 lbs), slide on giant slide, climb on the giant spider web, and last but not least- Giant Jumping Pillow!!!

Corn Maze
Navigate the maze to find (in numeric order) the 12 hidden checkpoints. You can get a copy of the maze map at the entrance or view on your smart phone (scan the posted QR Code). Or just have fun getting LOST!

The Corn maze event features more than 35 fun-filled family activities for kids of all ages!

Tube Slide
Corn Cannon
Spider Web
Hay Rides
Giant 10 Acre Corn Maze
Cow Train
Jumbo Jumping Pillow
Barnyard Express Zip Line
Pig Races
Corn Hole
Giant Barrel Rollers
Round Bale Run
Ball Toss Arcade
Farm Animals
Campfire & Smores
U-Pick Pumpkin Patch
Horse Shoes
Tricycle Races
Giant Lincoln Logs
Farm Tether Ball
Farm Football
Straw Barn Play Area
Little Farmers Corral
Corn Volley Ball
Farmin Foosball
Corn Box Play Area
Singing Pumpkin Light Show
Duck Races
No Right Turn Maze
Farm Wall Climb
Live Entertainment
Steer Roping
Angry Pumpkin Slingshot
Giant Tire Sand Box

Fairytale Trail
All the little farmers and 'junior visitors' to the maze will enjoy reading the story "Jack and the Cornstalk" near the entrance of the maze.
All photos and videos within this listing are the property of Denver Downs Farm Harvest of Horror
Email Verified

So scary that I twinkled a little. Hehe

Haunted maze was frightening!

| | |
| --- | --- |
| Scare Factor: | |
| Fun Factor: | |
| Haunt Value: | |

Posted October 2018

Fun and scary

Was awesome and lots to do. Fun for kids during the day and when it gets dark the scares are top notch.

| | |
| --- | --- |
| Scare Factor: | |
| Fun Factor: | |
| Haunt Value: | |

Posted October 2018

Email Verified

So fun - and scary

I am not not into haunted houses or anything like this and had to be convinced to go - and I'm so happy I went! It was FUN. It was also scary and creepy. The freak show was definitely the creepiest and the holiday house was creatively creepy. I loved Area 51 where you got to shoot aliens. The Dark Harvest was a blast. I was terrified of the creatures in the corn maze but had a lot of fun. I'd do it again.

| | |
| --- | --- |
| Scare Factor: | |
| Fun Factor: | |
| Haunt Value: | |

Posted October 2018

Fright Fest!!!!!

It was so much fun! I went with all my friends ,and we had a blast!!

| | |
| --- | --- |
| Scare Factor: | |
| Fun Factor: | |
| Haunt Value: | |

Posted February 2018

Entertainment for whole family

It's a farm house entertainment for the entire family. While the kids can enjoy the 35 and more barn activities, the more daring ones can explore the haunts. There are four haunts at an affordable price...which was great. Also included in the price was a 10 acre corn maze and barn activities. The Haddonfield Inn was the scariest; there was no end to the fright throughout the walk. Corn maze was amazing with actors doing their best to scare and fool us around as we try to find a way out. We all had great time at the bonfires doing all the activities that we could do. Looking forward for a another fun filled Halloween.

| | |
| --- | --- |
| Scare Factor: | |
| Fun Factor: | |
| Haunt Value: | |

Posted November 2017

Too pricey

This place was too pricey for nothing. It had good entertainment for the kids but the scares were below average. The actors were busy with their own things and did not mind about their work, which was disappointing. We went there to celebrate the Halloween thrills and nothing happened. Not making the same mistake again.

| | |
| --- | --- |
| Scare Factor: | |
| Fun Factor: | |
| Haunt Value: | |

Posted November 2017

Haunted me many lonely days

Screams and only screams....that's what I remember after visiting here! Denver Downs Farm Harvest of Horror is really an amazing and priceless haunted attraction! The Freak Show visuals haunted me many lonely days. It was such amazing heart touching experience which may lead to highly ghastlier effect. I would like to give 5 stars for the whole creepy setup and actors' performance and their dedication.

| | |
| --- | --- |
| Scare Factor: | |
| Fun Factor: | |
| Haunt Value: | |

Posted October 2017

Email Verified

Fun filled hair raising experience

Denver Downs Harvest of Horror was really huge and had such a large variety of scenes and characters. You will get to see many differently themed areas and a large variety of fright techniques were used as we walked through and there was absolutely no mercy shown to the visitors. The actors are good at catching you off guard. Over all a fun filled hair raising experience.

| | |
| --- | --- |
| Scare Factor: | |
| Fun Factor: | |
| Haunt Value: | |

Posted October 2017

Email Verified

Terrifying show, nice scares

I with my GF went to the Denver Down's. It has 4 haunted attractions, corn maze as well as barnyard activities with loads of scares. The trail through the 10 acres corn maze was terrifying. Creepy characters could emerge from behind the corn stacks anytime and scare the wind out of you. Kudos to the actors.. they knew how to scare visitors with minimal fuss. It also had some nice scary props. The Freak Show was very terrifying. The details that went into the creation of sets is amazing. The ride in the bus to the Camp Crystal Lake really tested our courage. Overall, the Denver Down was very enjoyable. Can't wait till next year.

| | |
| --- | --- |
| Scare Factor: | |
| Fun Factor: | |
| Haunt Value: | |

Posted October 2017

Lots of hidden scares and props

I and wife had a blast at the Denver Down's Farm Harvest of Terror. The corn maze had lots of hidden scares and props. The barn was also pretty creepy. The actors involved in the freak show deserve 5 stars. Their makeups and costumes were terrifying. The bonfire and the live music at the end of the visit were very enjoyable. For the terrors we saw, $30 per head is reasonable. The lines may be long at times. So it is advisable to prefer fast pass for smooth entry. Staff were friendly too. Scare lovers check this place out.

| | |
| --- | --- |
| Scare Factor: | |
| Fun Factor: | |
| Haunt Value: | |

Posted October 2017

Email Verified

Scares were below average

This place turned out to be a torment exercise for me. Very long queues and staffs were very rude. The time spent inside the haunt was a fraction of spent while standing in the queue. The scares were below average and actors were showing no interest in scaring us. The makeup and costumes were not scary and it resembled some circus clowns. The ticket rates were too high as well. Better try somewhere else.

| | |
| --- | --- |
| Scare Factor: | |
| Fun Factor: | |
| Haunt Value: | |

Posted October 2017

Had a fabulous time

It was so much fun, so much fright at Denver Down. It is a perfect outing with the corn maze and pumpkin patch. We went for the weekend entertainment and had fabulous time with the running around pigs, feeding goats and cows. There was yummy food available that can be purchased at concession rates. Scares were pretty good with detailed sets, great actors, good make up and costumes. Overall a good entertainment.

| | |
| --- | --- |
| Scare Factor: | |
| Fun Factor: | |
| Haunt Value: | |

Posted October 2017

Unique frightening experience

The Farm Harvest of Horror gave us some nice scares. The experiences in the Santa Slay was really frightening as well. But the scariest of them was the Haddonfield Inn. The creepy characters in the inn could freak you out. The effects as well as the visuals were scary too. The Camp Crystal Lake provided a unique experience.. the bus ride to the lake was fun. I recommend this place.

| | |
| --- | --- |
| Scare Factor: | |
| Fun Factor: | |
| Haunt Value: | |

Posted October 2017

Email Verified

Couldn't make it thru all 3 events

My daughter went and told a worker she was going to sue them lol. She also refused to go into the freak show and bus and walked back to the pumpkin patch....I haven't laughed this hard in a long time

| | |
| --- | --- |
| Scare Factor: | |
| Fun Factor: | |
| Haunt Value: | |

Posted October 2017

2 out of 2 found this review helpful
All information on this page was submitted to South Carolina Haunted Houses and was believed to be accurate at the time it was posted. Please report any inaccuracies
here
.